12th Safar, 1443 A.H.
Sunday, September 19, 2021

| | | | |
| --- | --- | --- | --- |
| Fajr | 5:41 | 6:00 AM | 6:53 |
| Dhuhr | 1:01 | 1:30 PM | 5:22 |
| Asr | 5:22 | 5:45 PM | 7:11 |
| Maghrib | 7:11 | 7:11 PM | 8:20 |
| Isha | 8:20 | 9:00 PM | |
---
1st Jumu'ah Prayer
| | |
| --- | --- |
| Adhan |      1:15 PM |
| Khutbah |      1:25 PM |
| Khateeb |      Sami Rehman |
2nd Jumu'ah Prayer
| | |
| --- | --- |
| Adhan |      2:15 PM |
| Khutbah |      2:25 PM |
| Khateeb |      Sami Rehman |
3rd Jumu'ah Prayer
| | |
| --- | --- |
| Adhan |      3:15 PM |
| Khutbah |      3:25 PM |
| Khateeb |      Hafiz Nizar |
Please continue with your weekly donations during these challenging times. JazakAllahu khayran!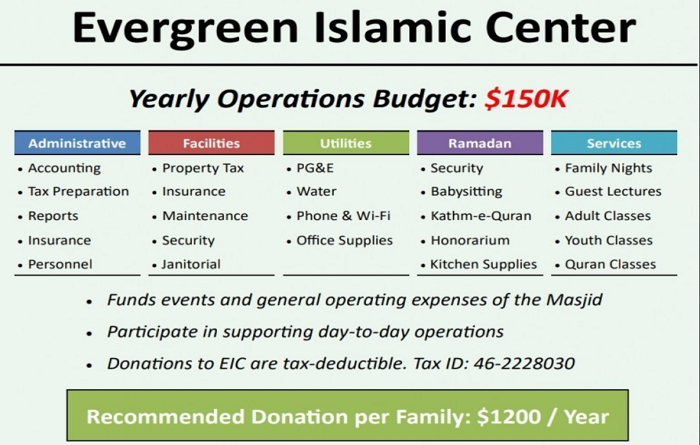 ---
EIC Board of Directors Election 2021

EIC is seeking nominations from motivated community members who can contribute their time, experience and expertise towards serving EIC and the EIC community.
The deadline for submitting signed BOD nomination forms is Sept 30, 2021 by 9 PM. Please scan the filled and signed form or take a clear picture of it and email to us at election-admin@eicsanjose.org
Talk by Mufti Mudassir at EIC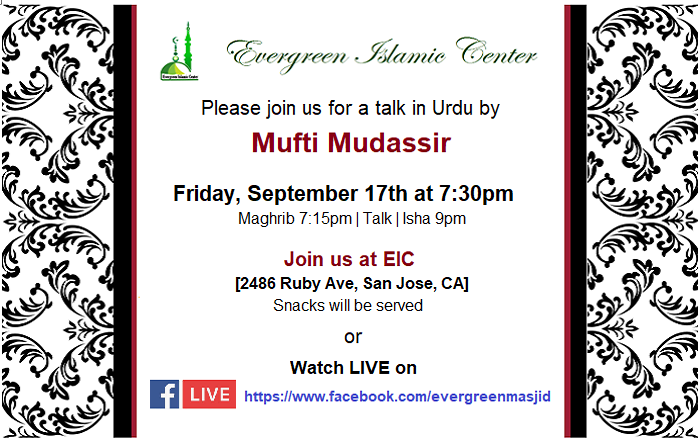 EIC Donor Recognition Tree

We have a DONOR RECOGNITION TREE to thank our generous donors who have donated $5000 or more towards the Masjid construction project since 2020. The tree will have the donor's choice of name or short appropriate message engraved on a leaf. Please inform us of your donation or pledge by submitting the form below. If you have donated any amount less than $500, then please choose the 'Other' option and fulfill the $5000 pledge to be included in the next batch of leaves.
The donor's leaf will be added to the tree after the $5000 pledge is fulfilled.

---
Newsletter & Announcements