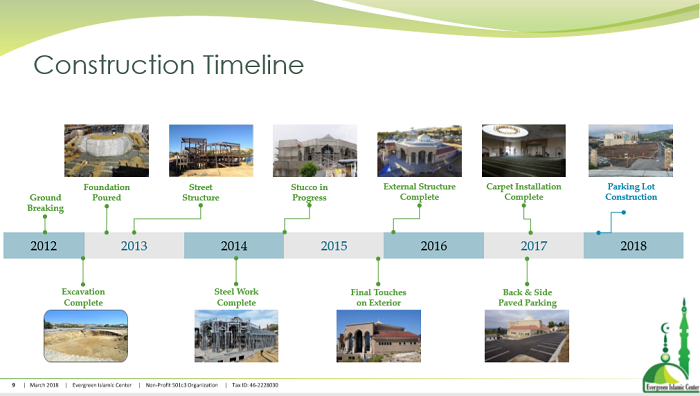 2014 Review: Evergreen Masjid Project made significant progress. We completed two significant project work items of Steel and Concrete and started on the next development phase of covering the exposed steel structure. Both these tasks were arduous, expensive, required significant planning and tested the patience of our community. Alhamdu'lillah, with The Almighty's blessings and your continued support we persevered.
2015 Review: We started the year with a shell and by the end of the year our Masjid had taken its final shape and looks complete. Masha'Allah! We are pleased to report that majority of the exterior work was completed which included metal work, roofing, stucco, tiles and paint. There was tremendous progress throughout the year. We are grateful to our community who continued their support towards the project.
2016 Review: We made significant progress throughout the year, both on the outside as well as on the inside. This phase of construction required exceptional program management and coordination as there were multiple tasks running in parallel. Inside of the facility is beginning to take shape with walls, ceiling, windows and doors in place. Alhamdu'lillah, with The Almighty's blessings and tremendous support from the community we made significant progress towards achieving our goal.
2017 Review: Turned out to be a tremendous year for project as we were able to complete create several critical tasks and secure a temporary permit of occupancy, Alhamdu'lillah! This allowed us to enjoy the blessed month of Ramadan in the new facility, along with performing daily Salah's. With the additional capacity we were able to pray both Eid prayers at the new facility as well. We were also able to complete the initial phase of parking which added 50 new parking spots within the premises and improved traffic congestion on the nearly streets. Alhamdu'lillah, with The Almighty's blessings we enter 2018 with the vigor to take the project over the finish line.
2018 Progress: Alhamdu'lillah, by the blessings of Allah (swt) we are praying daily in the new Masjid. We are grateful to our community who has continued their support over the years. With your generous contributions in 2017 work is in progress to complete HVAC installation, basement, and permanent PG&E connection. We are pleased to report that work is expected to complete in time for Ramadan.
It is true that the end of construction is well in site, but our task is not yet complete. We have secured a very favorable contract with flexible payment terms for the following tasks to be completedbefore the blessed month of Ramadan starts :
R

emoval of the old structure

Hauling away of demolished material and excess dirt

Final grading of the parking lot and expanding the parking capacity to 150 vehicles
These are arduous and costly tasks which span multiple months. This is active construction area with heavy machines still at the premises so please exercise extreme caution!  These are electrifying times at EIC as we continue to make progress towards our goal and witness the completion of a magnificent Masjid.
We ask our community to continue to pray for expeditious, smooth and safe completion of the work.  We have been collecting pictures of construction over the last few years and felt that it was important to share this journey with our community and supporters.
Click the pictures link to see the latest construction pictures.
Click the video link to watch years of tough work in a span of minutes.