Help-the-Needy initiated by Evergreen Islamic Center (EIC). Donate through your employer and make your donations become double or triple instantly. Your employer must have a matching program with Benevity, if not please encourage them to join.
Matching fund from the corporation will help these charities and others in need:
Note: Corporate matched fund will not be used for EIC's construction or operation purposes. EIC does not discriminate based on race, color, religion, sex, or national origin. This charity program is open to all.
EIC distributed funds received from Benevity to several organizations offering humanitarian services in the USA.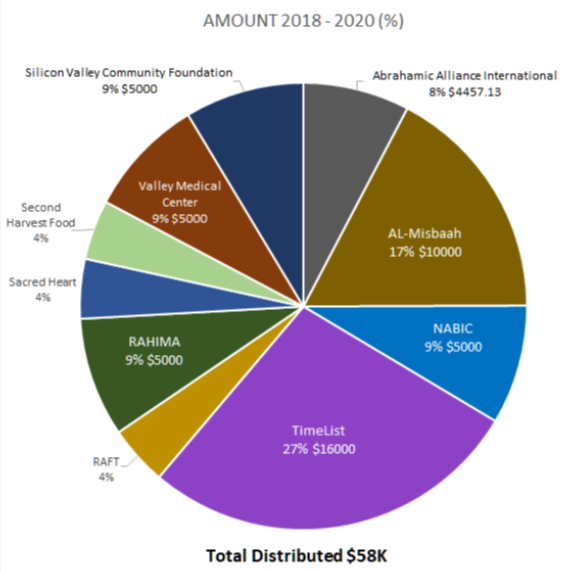 ---
What is Benevity?
Benevity is an organization, who qualifies non-profit organizations like EIC. EIC is registered and certified by Benevity. Corporate America partnered with Benevity to get direct access to all non-profit organizations without having to screen and qualify each of them. Employees of these corporations are encouraged to donate to their charity of choice from this list, and they match based on their policy of 100%, 200%, etc.
What is a matching policy?
Most fortune 500 companies have a donation matching policy where they will match 100%, 200%, or others to encourage their employees to support charities of their choice. You can check with your Human Resources Department to find out if your employer has such a policy. If not, please encourage them to do so by partnering with Benevity.
Why should I donate through my employer instead of donating directly to EIC?
Donating through your employer will make your donations double or triple instantly based on their matching policy. Your employer must have a matching program with Benevity, if not, please encourage them to join. This way, you can help EIC as well as other charitable organizations.
Donating directly will help EIC; however, you should do this only if your employer does not have any matching plans.
What will happen if I donate money via my employer matching program to EIC?
Your donated amount will be matched by your employer, provided they are partnered with Benevity. Benevity will issue receipt directly to you and your employer for this donation.
Here is an example: Suppose Br. Ali, who works for Apple Inc., donates $100 via Apple matching program. Benevity will receive $300 ($100 will come from Br. Ali, and $200 will come from Apple Inc.). Benevity will disburse $300 minus their administrative fees to EIC. EIC can use $100 from Br. Ali towards EIC activities (construction, Operation, and anything that Br. Ali designates); whereas, $200 from the corporate has to be strictly used helping the needy. Please see the list of charitable organizations at the top of this page.