EIC Steel Structure & Landscaping Project


We would like to thank our community for their continuous generosity and support towards the Masjid construction project. Alhamdulillah, we are progressing well towards the completion of foundation and slab work. Expected completion date is September 2020. Next important task is erecting a steel structure and complete the landscaping within the facility. To keep the construction on track, we urgently need to raise $750,000 in new money to complete these tasks.
---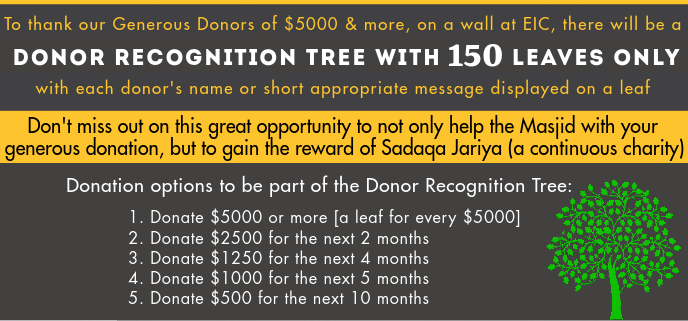 ---
Please Donate Generously
at EIC's Facebook Fundraiser [no fees]
or by clicking on the DONATE button below
or via Zelle – EIC ID: payment@eicsanjose.org
---
If you have donated $5000 or above, then please submit the form below so that your name or your message can be included on our Donor Recognition Tree in-shaa-Allah

---
---
Other methods of donation:
Pick-up Donation – Send an email to finance@eicsanjose.org or call 408-239-6668 to schedule a pick-up of cash/check donation from your location
Mail check to EIC – Mail the donation check to 2486 Ruby Ave, San Jose, CA 95148 – payable to Evergreen Islamic Center with memo as Construction
JazakAllahu khayran!
---