EIC WIS Youth Program (age: 11-18)

---
EASY 2-STEP REGISTRATION – Both Steps are Required:
Step 1:

 

Pay

EIC WIS Tuition 
 $150 for Second Semester (or $200 total if registering two or more children in the Youth Program)
Note: Second Semester registration is for NEW students only. Current students were registered for the entire school year.
For questions, please email eic-wis@eicsanjose.org
---
There will be a total of 28 online classes in the EIC WIS 2021-2022 school year rotated between Imam Tahir Anwar, Mufti Rohullah Bayanzai, Ustadh Mahdy Amine, and Guest Speakers. The classes will be on Fridays from 6pm to 7pm starting on September 10, 2021 and ending on May 20, 2022 in-shaa-Allah.
CURRICULUM:

Qur'an Tafseer – Surah background and explanation
Du'as of the Prophets – what we can learn from the situations the du'as were made in and how to apply those du'as in our lives.
Al-Ghazali's Forty Principles of the Religion – Ihya Ulum ad-Din – a book which explores the spiritual depth of virtually every aspect of Islam.
Character & Manners – Islamic guidance from the Qur'an and Hadith related to manners and character.
Career Building –

with guest speakers, who have balanced the religion and education/career aspects of their lives, and they will provide inspirational, motivational advice and tips to the youth based on their experiences.
HOLIDAYS: 11/26/21, 12/24/21, 12/31/21, 2/18/22, and the month of Ramadan
---
SECOND SEMESTER SCHEDULE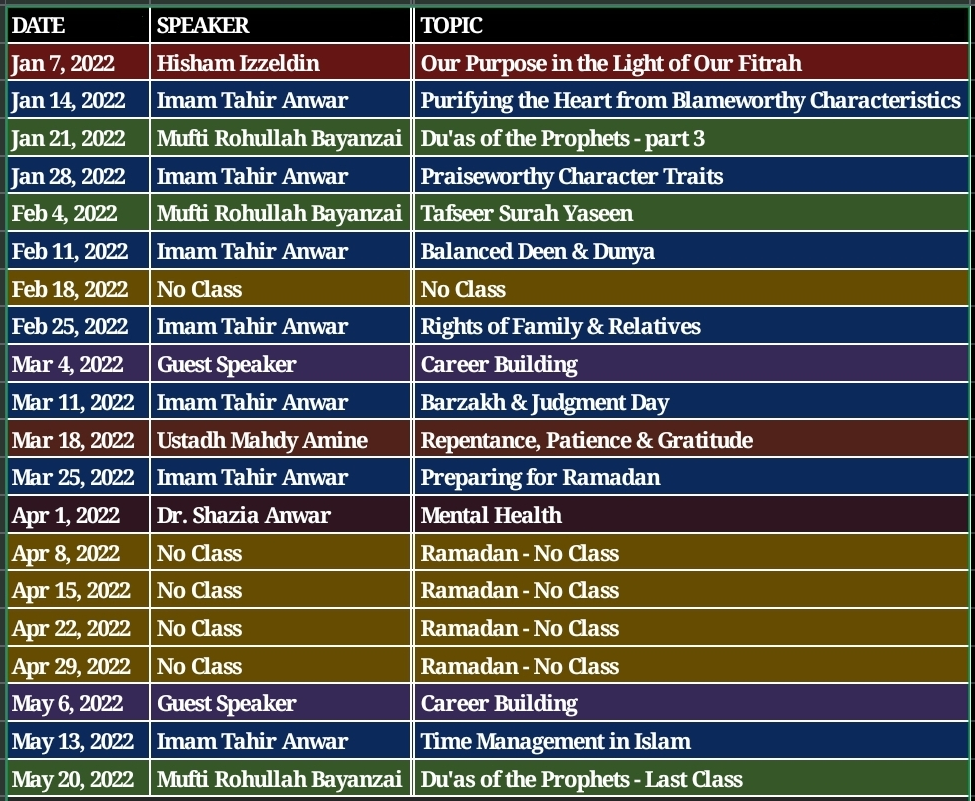 - We reserve the right to make changes to the schedule –

---
---