EIC WIS Youth Program (age: 11-18)

EASY 2-STEP REGISTRATION – Both Steps are Required:
Step 1:

Pay

EIC WIS Tuition
$100 for Spring 2023 (or $175 total for siblings)
Note: Spring 2023 registration is OPEN for new students only – Fall Semester 2022 students were registered for the entire school year.
For questions, please email eic-wis@eicsanjose.org
---
The classes for EIC WIS Youth Program for the 2022-2023 school year will be held at EIC on Fridays from 6pm to 7pm starting on September 9, 2022 and ending on May 19, 2023. Students can attend them preferably in person or online via Zoom.

Taught by Shaykh Alaeddin ElBakri, Imam Tahir Anwar, Ustadh Mahdy Amine, Mufti Rohullah Bayanzai and Guest Speakers.

CURRICULUM:

Connecting with Allah (swt) – ways to strengthen connection with Allah (swt)

Qur'an & Hadith – background and explanation
Taharah/Salah – Purification and Prayer steps

Stories of the Prophets – what we can learn from the situations faced by the Prophets and how to apply them in our lives.
Character & Manners – Teachings from the Qur'an and Hadith related to manners and character.
Current Situations – Islamic guidance in how to handle situations that are currently being faced by the youth

Career Building –

with guest speakers, who have balanced the religion and education/career aspects of their lives, and they will provide inspirational, motivational advice and tips to the youth based on their experiences.
HOLIDAYS: 11/11, 11/25, 12/23, 12/30, 1/13, 2/24, and the month of Ramadan
---
– We reserve the right to make changes to the schedule –

---
Registration link for ages 5 – 11 years: https://www.eicsanjose.org/wp/eicwis/
---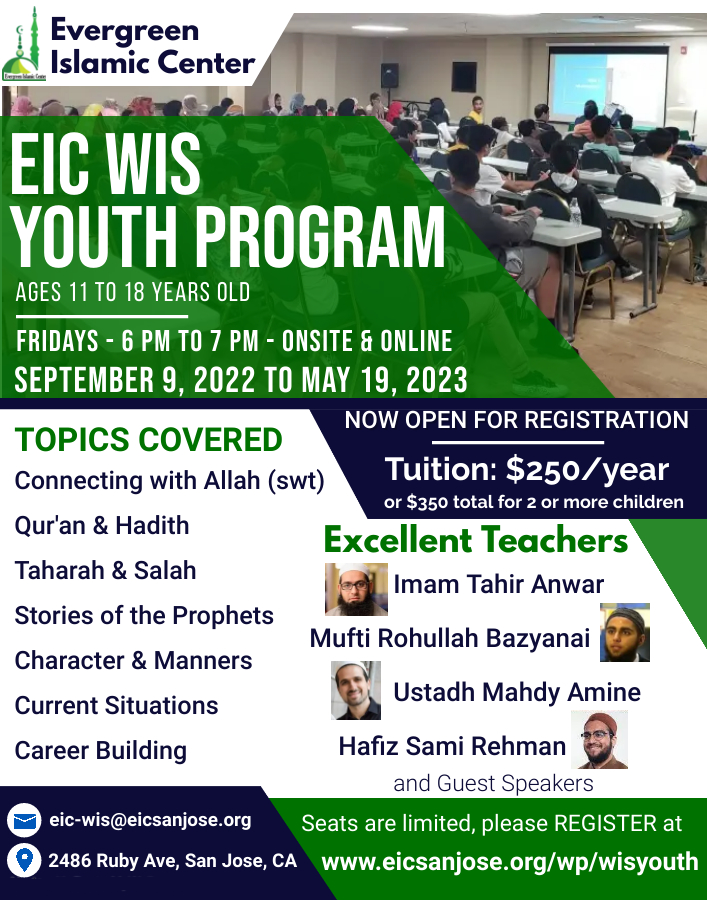 ---