The Prophet (peace be upon him) said: "Whoever builds a mosque for Allah, Allah will build for him likewise in Paradise." [Sahîh al-Bukhârî and Sahîh Muslim]
Evergreen Islamic Center (EIC) brings to you a unique and rare opportunity to have a piece of artwork made by your child or yourself be adorned on the walls of the masjid. It will be a memory that your child(ren) will cherish and fondly remember and bring their children to show how they became a part of the history of the first ground up mosque in the bay area. 
RESERVE YOUR TILE(S)
 Payment can be made on this page using PayPal or with Zelle [EIC ID: payment@eicsanjose.org]
Note: Every $100 donation gets you 1 ceramic tile, supplies and glazing. For additional tile booking, please donate in multiples of $100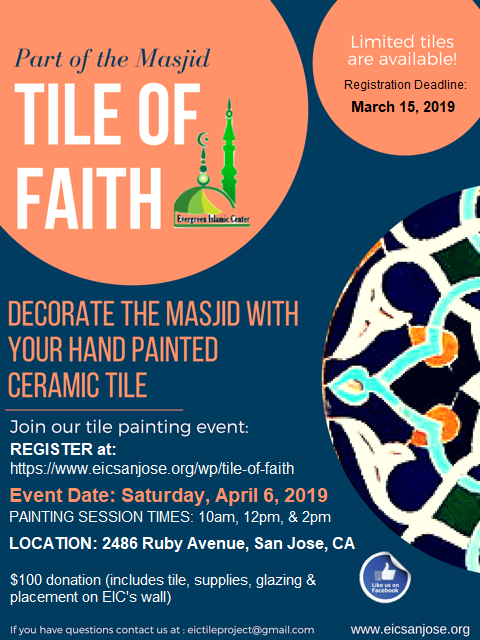 FAQ
1) What is the 'Tile of Faith'?
A 'Tile of Faith' is a ceramic tile that you can make at one of EIC's Tile of Faith events that will be setup for this activity. The team will take care of firing and supplies. All you have to do is turn up with creative ideas and spirit of giving. Each tile is a 6-inch square.
2) How much does it cost?
All supplies, cost of tile and glazing are included in every $100 donation. For example, if you donate $200 towards 'Tile of Faith', then you get to make 2 tiles!
3 )Is it possible to share a tile?
Absolutely it's possible. It is a good size tile and it would be a great bonding activity for siblings to share a tile.
4) Where will it be put after completion?
The plan is to have a mural spelling EIC on the lounge wall. However, this is subject to engineer and designers' view. Be assured that it will be featured at a focal point and cannot be missed.
5) How to reserve a tile?
Please click on 'Pay' next to 'Tile of Faith' and for every $100 donation you get 1 ceramic tile, supplies and glazing included. For additional tile booking, please donate in multiples of $100. Please enter your name in the memo section of the payment page.

6) Do I need to make separate payment for each tile I buy?
No, you don't have to make separate payments,you just have to multiply $100 by the number of tiles and donate towards 'Tile of Faith' appropriately to reserve your tile(s). If you have any questions, please contact us at:
eictileproject@gmail.com